Going Off the Sheep End

Airing date

December 8, 2000

Running time

22 minutes

Episode number

4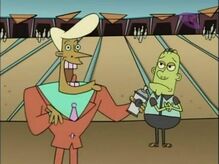 Going Off the Sheep End is the fourth episode of Sheep in the Big City.
While Sheep tries to grab Swanky's attention by making unnecessary changes to himself, the Angry Scientist comes up with less-than-foolproof and idiotic plans to capture Sheep.
The Man Who Yelled has a cameo appearance during the odor scene.
Running Gag: Sheep lands on a bun, each time after getting caught by Lady Richington.
Ad blocker interference detected!
Wikia is a free-to-use site that makes money from advertising. We have a modified experience for viewers using ad blockers

Wikia is not accessible if you've made further modifications. Remove the custom ad blocker rule(s) and the page will load as expected.